With over ten years of experience as metro Detroit's premier commercial and residential patio and retaining wall builder, Landtek is proud to offer sealing and restoration services for all types of brick, stone and concrete patios, walkways, driveways and retaining walls.  Whether you have just installed a new patio or are looking to restore an existing one, turn to Landtek for professional and lasting results.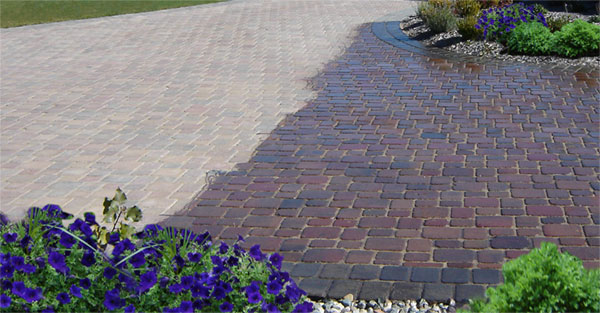 Landtek guarantees your complete satisfaction.  We use only the finest sealers and cleaners available today.  Our experienced crews are extensively trained in every aspect of the cleaning and sealing process and will recommend the best product and application technique for your surface.
Landtek's 4 Step Process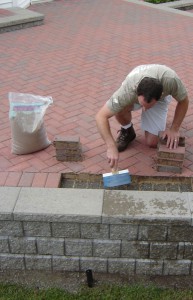 1st On old paver surfaces, Landtek will remove and reinstall pavers in areas where water collects and have become out of level with special attention to "what lies beneath".  Because the degree of re-stabilization varies greatly from job to job, additional charges may apply.
2nd. The entire surface is power washed, then cleaned as required with a specially-modified cleaner to remove stains, efflorescence and moss.  The surface is then rinsed completely.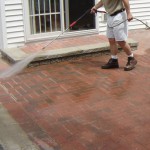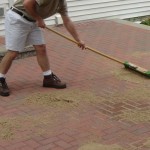 3rd. Then all of the joints are stabilized with sand between all of the pavers.  on some mortared surfaces, this step is replaced with the application of new mortar.
4th. The sealer, specifically selected for your surface is applied.  This enhances the natural beauty and color of your surface, retards adhesion of dirt and grime and locks in joint sand preventing shifting and weed growth.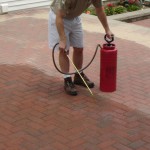 Color enhancement and an attractive 'wet-look" finish is the most obvious result you'll see after Landtek seals your new or old concrete surface. Landtek's finishing touch process provides long term protection to your investment that is recommended by brick paver manufacturers.  Over time, pavers accumulate stains and grime due to traffic, weather and spills.  Moss can grow between joins and a white haze caused by efflorescence can appear.  Sealing stabilizes the sand between pavers, helps prevent against moss and weed growth, and offers protection at the same time.